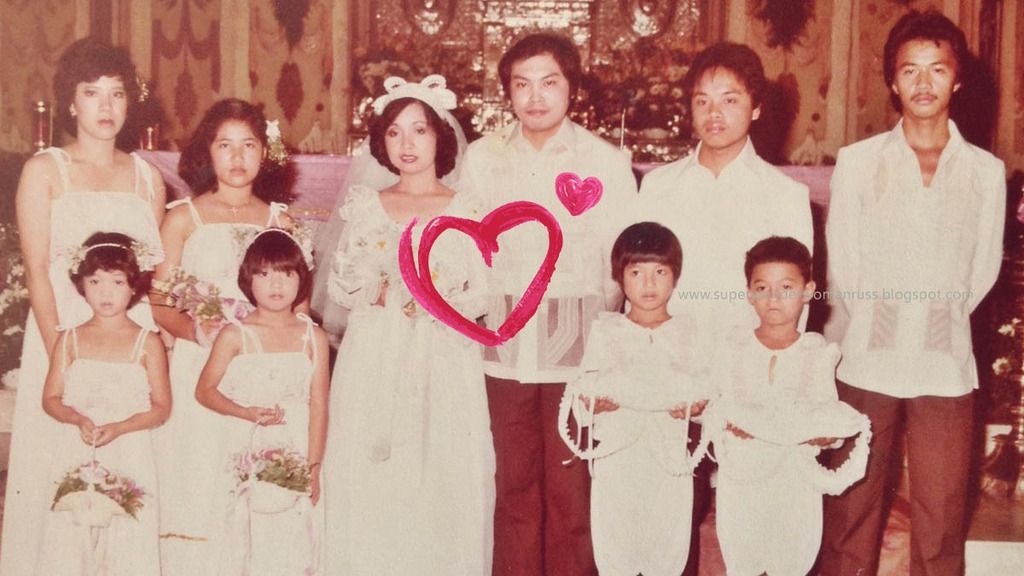 Mom & Dad on their wedding day, 34 years ago


It's March. It's summer. And, love is in the air! March is the month when my parents had their second wedding. The first one was a civil + secret marriage ( yes, uso sya dati! ) which was followed by a church wedding a few months after. My parents aren't exactly together now, but I recently realized that while I have gotten used to their complicated set-up, our set-up, I still want my Mom and Dad to reconcile & be lovey-dovey to each other again. The universe hasn't conspired so well in making their marriage work, but I feel that there's still something there — they just don't want to talk about it. I am jaded, but believe it or not, I am still a hopeless romantic ... a child who hasn't lost faith that one day, she'd still see her parents back in each others' arms.

Anyways, it's a little late for my Carpe Diem post for this month because I've been extra extra busy, but I'm still up for it. I'd hate to miss a month. You know what they say: better late than never. So, here it goes.
---
My Favorite Blog This Month: 2FoodTrippers ( www.2foodtrippers.com )
I love love love this blog because there's just an overload of food posts and so much travel posts here — two of the few things that are close to my heart. If you have some time to spare, head over to their blog after mine and be very ready to drool because there's just too many nice food shots from different parts of the world that they've been to.

What I'm Reading
I'm reading Ron Rash's Serena. I saw the movie and I was curious. Luckily, I learned that there was a novel version of Serena ... a film that intense, it should be a good read. I'm half-way through the book. So far, I've been getting all the answers to the stuff that were not shown in the movie. I could picture the young Cherie Gil ( super idol! ) play the role of Serena Pemberton.

What I'm Watching
It's funny how I slept through the first episode of The Flash. It's even funnier that P plugged a middle episode of the first season and I found myself enjoying the series because Barry Allen and his friends are all geeks. Now, I'm hooked. "The adventures of scientist Barry Allen who is a superhero with incredible speed." [ Read more at Gotcha Movies ]








What I'm Eating
After my gastroadventures in Malaysia and all the extra family meals we had when my Tita Rose ( Mom's big sister ) was here in the Manila for 3 weeks, I'm now slowly going back to my 1,200 calorie meal program and this time around, I signed up with Sexy Chef's SexyDelicious meals. I've been at it for the last 2 weeks. In the last photo on this post, you'll see a sample meal plan for 1 day which consists of breakfast, lunch, a snack, and dinner.

What I'm Drinking
And, if I've been eating healthy stuff, it follows that I've been drinking healthy stuff too. I am happy that Detoxify Bar has finally opened in Westgate, in Alabang. I can now conveniently have my veggie juices any time I want 'em.

What's Making Me Smile Right Now
I spent a lot of time with relatives that I have not seen in years. It was fun seeing my little cousins all grown-up and taller than me. My grandmother's passing brought a reunion of sorts. While it does not sound right, it felt like the good ol' days when we were all still little. I guess I just missed being with them. Nothing beats the family love — I hope we, the younger generation, would do a better job at keeping in touch and seeing each other more often. We need to keep the love alive.



---
March went by so fast; there were just so many things happening all at once. I hope April would be more chill, not as toxic, and not as crazy as this month. I'm way behind a lot of my posts, so it looks like I won't really be suffering from any kind of writer's block in the next few weeks. Lol. Hope March has been good to you guys :) ☮..Peace + ❥

_

Love + Good Vibes.

RUSS.